Looking to get started learning guitar online? You're in luck! Here are our top five picks for the best, most comprehensive, and most affordable guitar lessons available online.
There's no one right answer when it comes to what is the "best" way to learn guitar. That said, we think that some of the following online guitar lessons may be perfect for you.
Whether you are a beginner or an experienced guitarist, online guitar lessons can be extremely helpful. There are many great options available that cater to different levels of musicianship and teaching styles.
Any of these guitar courses can help you get better at playing guitar. But my recommendation for complete beginners is GuitarTricks, and for intermediate and above I recommend JamPlay.
In short, it's because they both have a great community, easy-to-follow guitar lessons for all levels, lessons in many genres, a good selection of songs to learn, multi-angle HD videos that are easy to understand, interactive tools, and a lot more.
JamPlay – Learn Guitar Online with HD Video Lessons
These days it's easier than ever to learn guitar. One of the best ways is through online tutorials. Jamplay offers high-quality, interactive lessons for beginner, intermediate, and advanced players. They feature video instruction by pro instructors, they take you from a beginner to start playing your favorite songs.
Guitar lessons can be expensive and time-consuming, not to mention the commute. JamPlay offers some of the best guitar lessons you'll ever find online.
What JamPlay Say About Them Self:
They have spent the past 14 years building one of the largest resources of guitar content on the planet.
A JamPlay Membership gives you access to all lessons from every teacher they offer.
From the Beatles to Megadeth, their song catalog features tons of songs to learn in various styles and genres.
Your JamPlay Membership gives you access to all online guitar courses from all teachers.
Get pro help, anytime, in a live format with a JamPlay Membership.
Beginner to advanced, acoustic to electric, classic to rock… Jamplay has the courses and online guitar lessons you need to move your playing forward. Featuring 110+ guitar teachers spanning 20 different genres.
Example Lesson from JamPlay
You'll have access to interactive lessons that contain multimedia as well as supplemental material to help you progress as a guitarist. Think of GuitarPro, but on the web! Fully responsive and featuring virtual instruments.
Along with their pre-recorded guitar lessons, they also offer live guitar lessons in two different formats. They have weekly workshops which are filmed in 4k and broadcast live to you in 1080p!
These workshops are task-based, focused lessons about a designated topic of guitar. Also, ​their Live Q&A offers open dialogue and discussion with the teachers.. for up to 8 hours a day.
Level up your playing with JamPlays skill-based lessons, dedicating full courses to skills like lead improvisation, ear training, learning music theory, and much more.
New teachers, courses, and guitar lessons are added each month. Jamplay has a catalog of over 100 online guitar teachers offering up over 4,000 years of experience. Beginner to advanced, certified educators to stage musicians, Jamplay's offerings are as diverse as music itself.
GuitarTricks – Easy Step-by-Step Video Lessons
GuitarTricks is a leading provider of online guitar lessons. They offer monthly or yearly access, with no limits on how many lessons you can watch during that time. They also have a great selection of instructors that teach all levels and styles of guitar, as well as an interactive community.
They provide high-quality, step-by-step video tutorials for beginners and experts alike taught professional instructors. If you're looking to learn how to play guitar they can help you reach your goals.
What GuitarTricks Say About Them Self:
If you're a beginner, at GuitarTricks you will make music on day 1, with their beginner Core Learning System.
Forget the old days of endlessly searching through YouTube videos and guitar tabs. Learning guitar is easier and faster with their step-by-step system.
That's why they started Guitar Tricks to provide online guitar lessons for those searching for an easy, fast, and fun way to learn guitar.
The best part is that Guitar Tricks has lessons for everyone, whether you're an absolute beginner learning guitar or an advanced guitar player looking to improve your technique.
Learning guitar is a lot easier when you have a step-by-step system to follow. Guitar Tricks lessons are interconnected and organized to get slightly harder as you progress.
Example Lesson from GuitarTricks
You follow along with the video lesson, clicking Next to move on when you're done. Lessons have multiple camera angles, guitar tabs, jam tracks, and everything else you need to learn.
Many guitar sites make beginners do long sessions of practice before they start learning to play anything interesting. If you're a beginner at GuitarTricks you will make music on day 1, with their beginner Core Learning System.
Another thing about GuitarTricks is it caters to a wide range of guitar players, from beginners to experts. There's a selection of lessons for everyone who wants to learn how to play the guitar. With lessons that teach you from the ground up, covering every genre of guitar, you won't get bored or lost with repetitive lessons.
GuitarTricks instructors are both knowledgeable and entertaining, they really seem to care about the student and material. I've learned a lot in a short amount of time.
TrueFire – Online Video Guitar Lessons Here
We all know that learning to play an instrument can be challenging. With TrueFire's online guitar lessons, you'll learn from expert teachers in videos with a clear view of both fretboard and tablature. Learn at your own pace with a structured curriculum, personalized feedback, and a supportive community of students to help you on your way.
Truefire Online Guitar Lessons is a course that offers a variety of lessons for guitarists of all skill levels. The website offers high-resolution videos, guitar tabs, and interactive content. You can choose from acoustic guitar lessons, rhythm guitar lessons, or lead guitar lessons.
What TrueFire Say About Them Self:
Over 40,000 video guitar lessons from the best educators in the world make TrueFire the #1 most trusted online resource for guitar players of all skill levels.
TrueFire's interactive video guitar courses are available on their website and apps for iPhone, iPad, Apple TV, Windows, Mac, and Android.
TrueFire's interactive synced tab is the best way to follow the lessons.
900+ interactive video guitar courses featuring multi-angle HD video lessons, slo-mo, looping, synced tab, music notation, jam tracks, and more.
"I've been a long-time TrueFire customer. The quality and content of the guitar lessons continue to improve. The variety of courses available is second to none. Truly something for everyone!"

Truefire customer review
TrueFire has great instructors, no matter what skill level you're at. Their course selection is awesome, they have a ton of different courses. What makes them different from Jamplay and GuitarTricks, is that you can buy the courses to own them forever, this is great if you don't want to have a subscription.
Example Lesson from Trufire
The apps are top-notch and offer many great features for learning, visualizing, and jamming with the various guitar lessons including being able to slow it down or loop it. The catalog of courses is awesome and greatly appreciated!
Truefire and JamPlay partnered up in Dec. 2019 to form TrueStudios. They are still separate brands with their own guitar courses, both sites will stay as they are. I think they created the partnership to be more competitive. Read about the partnership here.
Infinite Guitar – Guitar Lessons, Music News, Interviews
Learn to play guitar in minutes with Infinite Guitar. The site offers a library of over 500 lessons and features videos, audio, and written exercises.
Learning how to play guitar can be a long and difficult process. Infinite Guitar provides an easy way to learn how to play by yourself. The lessons are available 24/7 and once the monthly fee is paid, you can access them as often as you like.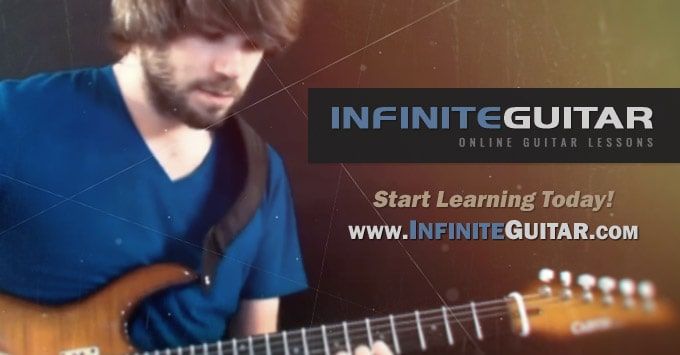 What Infinite Guitar Say About Them Self:
Our guitar teachers build upon this core principle within their lessons.
They have guitar teachers from all over the world and they're some of the best talent in the business. Check out Infinte Guitar's free guitar lessons to get a taste!
Let's be real, the internet has no shortage of online guitar lessons. But good ones that actually get you places? Those are rare.
The guitar is a really fun and challenging skill and we want to make sure you reach your goals. Whether you're a beginner needing guidance, an advanced player wanting to push yourself, or just need some assistance with technique, we can help at any stage in your journey.
Example Lesson From Infinite Guitar
You can check out Infinite Guitar's free online guitar lessons here, to get a better look at what they have. But don't expect they same quality as JamPlay and GuitarTricks.
Infinite Guitar offers some good guitar lessons. Whether you're a total beginner just looking to learn some basic chords, an intermediate player in a rut, or a seasoned professional looking to be challenged with new skills, their lessons can provide just what you're looking for.
Gibson's Learn and Master Guitar (I will switch it with Fender play soon since it's a DVD home course)
A good course for beginners, Learn and Master Guitar can teach you to play guitar from scratch. You'll be playing songs in no time with interactive teaching methods, interactive tabs, and easy-to-follow instructions.
Learn and Master Guitar is a guitar course that has been designed by professional guitar teachers. This course is available on DVD, USB, or streaming.
What LearnAndMaster Say About Them Self
Acoustic Guitar Magazine's Player's Choice Award for Best Instructional Material
With Gibson's Learn & Master Guitar, taught by guitar pro Steve Krenz, that tradition of excellence continues.
It is the winner of the Acoustic Guitar Magazine Players' Choice' GOLD Award, two Telly Awards, and an AEGIS Award for Excellence in Education.
Gibson's Learn & Master Guitar is designed for all skill levels.
The Gibson's Learn & Master Guitar course has been awarded the Acoustic Guitar Player's Choice GOLD Award.
Lesson books can be hard to navigate without a good set of video tutorials. Software-based instruction chains may be difficult to use and you'll have to stay at your computer.
Private guitar lessons are an expensive way to learn because they require your time and money. On average, if you have one weekly lesson, it will cost you $2,000 for that year alone. Plus all that extra driving to get there. But you can get online guitar lessons at least twenty times cheaper.
No one wants to practice along with a video all the time! Gibson's Learn & Master Guitar Lesson Book contains all the songs and exercises shown in the video lessons, as well as several more, so you can continue practicing at your own pace for as long as you need before moving on to the next lesson.
Example Lesson from Learn and Master
Gibson's Learn & Master Guitar course is known as the most complete course available for learning guitar. It is the winner of the Acoustic Guitar Magazine Players' Choice' GOLD Award, two Telly Awards, and an AEGIS Award for Excellence in Education.
Gibson's Learn & Master Guitar is a guitar learning system that offers both the roadmap and the practice. Guitar teachers and music professionals have developed it to ensure that it is a comprehensive and effective method for all skill levels.